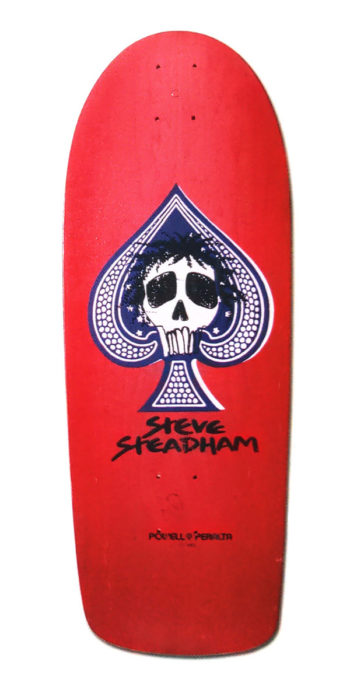 Powell Peralta
Steve Steadham
Oh, Steve Steadham, where do I start? He is a legendary skateboarder who made a big impact in the '80s with his unique style and creativity on the board. One of the most memorable things about Steve is the way he could make nearly any trick look effortless and smooth. He was known for inventing his own tricks that were a mix of freestyle, street, and vert skating.
What makes Steve's style and approach to skateboarding so interesting and inspiring is that he didn't conform to any particular style or trend. He did things his way, stayed true to his own vision, and pushed the boundaries of what was possible on a skateboard.
Anyone who wants to excel in skateboarding can learn a lot from Steve's approach — be creative, think outside the box, and most importantly, have fun with it.
Craig Stecyk III is an iconic figure in skateboarding. He is known for his contributions not only as a skateboard artist, but also as a writer, filmmaker, and photographer. Stecyk is considered to be one of the pioneers of the skateboarding subculture, and his artwork is recognized for its unique style that blends elements of street art, avant-garde art, and surf culture.
Stecyk is also responsible for the creation of the "Dogtown and Z-Boys" documentary, which chronicled the rise of skateboarding in the 1970s and introduced the world to the legendary Z-Boys skate team.
Stecyk's artwork has been exhibited in galleries worldwide, and his influence on the skateboarding world continues to this day. His skateboard decks and graphics are highly sought after by collectors and skaters alike. Stecyk's impact on the culture of skateboarding cannot be overstated, and he is truly a master of his craft.