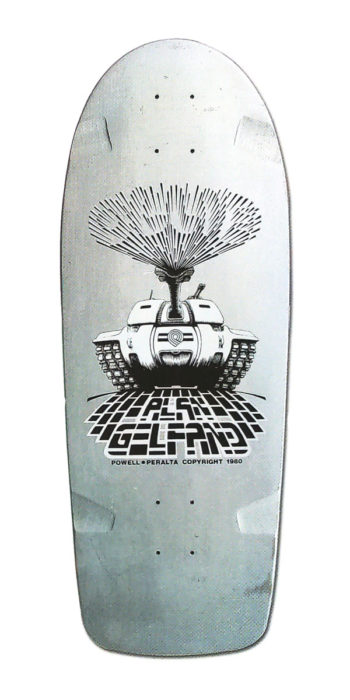 Powell Peralta
Alan Gelfand
Artist:
V.Courtlandt Johnson
Ah, Alan Gelfand! He's a true pioneer of the skateboarding world. In the 1970s, he's credited with inventing the "Ollie", which revolutionized skateboarding and allowed skaters to jump higher, farther, and do tricks that were previously impossible.
What makes Gelfand's contribution so special is that the ollie is a fundamental move that is still used by skaters today, and has even crossed over into other sports like snowboarding and wakeboarding. He was inducted into the Skateboarding Hall of Fame in 2014, and even has a trick named after him – the Gelfand maneuver.
So, if you want to learn about the history of skateboarding and the influential figures who helped shape the sport, Alan Gelfand is definitely someone to study!
V. Courtlandt Johnson was a legendary skateboard artist that made a significant impact on the skateboarding world in the 80s and 90s. He is famous for his surreal and psychedelic graphics that adorned skateboards and apparel, giving the skateboard industry a unique identity. Johnson's artwork often featured bizarre creatures, skulls, and skeletons that reflected the rebellious and counterculture spirit of skateboarding. He was an important figure in the evolution of skateboarding as an art form and his influence on the industry can still be felt today. In short, V. Courtlandt Johnson was an iconic skateboard artist who helped shape the aesthetic of modern skateboarding.