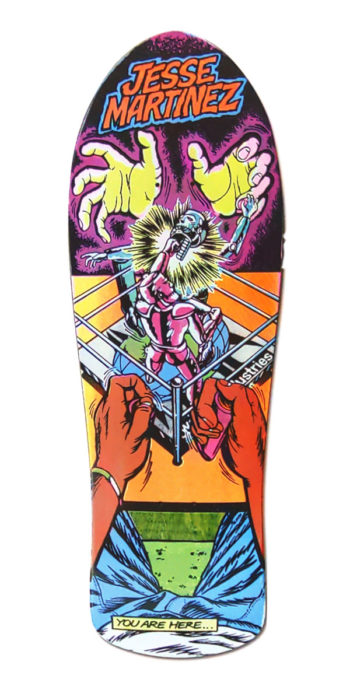 World Industries
Jesse Martinez
Jesse Martinez is a legendary figure in the world of skateboarding. He is known for his contribution to the development of skateboarding as a sport and his influence on the skate culture. Jesse was an original member of the Venice Beach Z-Boys and helped pioneer the style of skateboarding known as Dogtown style.
In addition to his accomplishments as a skater, Jesse is also a filmmaker, actor, and activist. He's starred in several skateboarding movies, including "Lords of Dogtown" and "Gleaming the Cube." He's also a founding member of the Venice Skateboard Association and has worked tirelessly to promote access to skateparks and promote skateboarding as a positive recreational activity.
Overall, Jesse Martinez is an important figure in the skating community, and his contributions continue to impact the sport and culture to this day.
Ah, Marc McKee is an absolute legend when it comes to skateboard art! His unique and quirky graphics helped shape the aesthetic of skateboarding in the 1990s. He designed for World Industries, Blind, and other skateboard companies during their heyday. McKee's art was playful, irreverent, and often provocative, with a particular talent for turning cartoon characters into subversive icons of skate culture. It's safe to say that his work has influenced generations of skateboarders and continues to inspire new artists to this day.