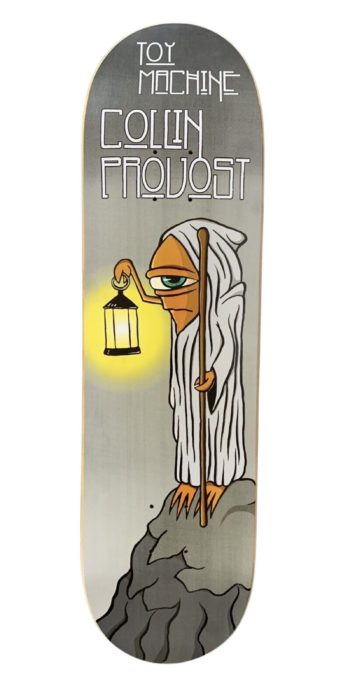 Toy Machine
Stairway To HeavenCollin Provost
Collin Provost is a professional skateboarder from Huntington Beach, California. He is known for his unique style and technical abilities, making him a top contender in street skateboarding competitions. Collin started skating at a young age and quickly made a name for himself in the skateboarding world. He has been sponsored by several major skateboarding companies including Toy Machine, Vans, and Independent Trucks. Collin's dedication to his craft and love for the sport make him an inspiring role model for aspiring skateboarders.
Ah, Ed Templeton – what an incredible skater, artist, and human being. He's a true modern-day renaissance man! Templeton is widely regarded as one of the most influential skateboarders of all time, and his unique style and creativity have had a profound impact on both skateboarding and the art world.
As an artist, Templeton is known for his vibrant, sometimes quirky illustrations that explore the skateboarding subculture and the human experience in general. He's also a keen photographer, capturing stunning images of skateboarders and street life that have been exhibited in galleries all over the world.
But perhaps what's most fascinating about Templeton is his deep connection to skateboarding itself. He began skating as a teenager in the mid-1980s and quickly rose through the ranks to become one of the sport's top pros. He's still actively involved in the skateboarding community today, both as an athlete and as an advocate for the sport.
As a Professor of skateboarding, I encourage all my students to learn as much as they can about skateboarders like Ed Templeton. He's an inspiration not only for his incredible talent, but also for his commitment to his craft and his willingness to give back to the community that has given him so much. So whether you're an artist, a skater, or just someone who appreciates great talent, Ed Templeton is definitely someone worth knowing!