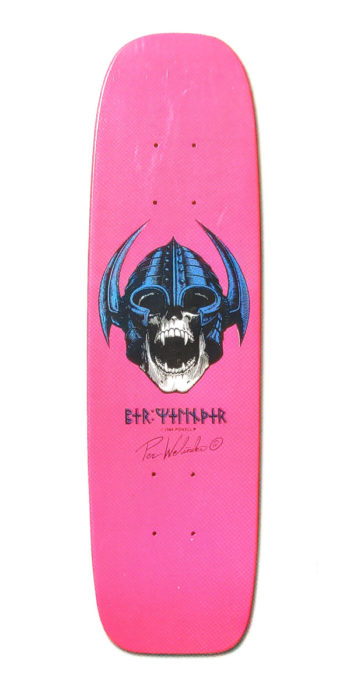 Powell Peralta
Per Welinder
Artist:
V.Courtlandt Johnson
Per Welinder is a legendary skateboarder and entrepreneur who helped to revolutionize skateboarding in the 1980s. He was born in Sweden and began skating in the late 1970s, quickly making a name for himself with his incredible technical abilities and smooth style. In the early 1980s, he formed the iconic skateboard company, Powell Peralta, with Stacy Peralta.
Under Per's leadership, Powell Peralta became one of the most influential companies in skateboarding history, sponsoring some of the most legendary skaters of all time and creating some of the most iconic skateboard graphics ever seen. Per was also an innovative graphic designer himself, creating many of Powell Peralta's most famous graphics.
But Per's influence on skateboarding didn't end with Powell Peralta. He went on to found another successful skateboard company, called Blitz Distribution, and has spent many years advocating for the sport of skateboarding, particularly in his native Sweden.
Overall, Per Welinder is a true skateboarding legend, and his contributions to the sport have helped to shape it into what it is today.
V. Courtlandt Johnson was a legendary skateboard artist that made a significant impact on the skateboarding world in the 80s and 90s. He is famous for his surreal and psychedelic graphics that adorned skateboards and apparel, giving the skateboard industry a unique identity. Johnson's artwork often featured bizarre creatures, skulls, and skeletons that reflected the rebellious and counterculture spirit of skateboarding. He was an important figure in the evolution of skateboarding as an art form and his influence on the industry can still be felt today. In short, V. Courtlandt Johnson was an iconic skateboard artist who helped shape the aesthetic of modern skateboarding.