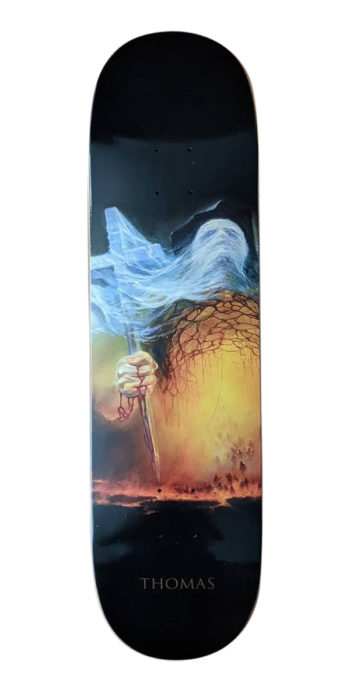 Zero Skateboards
Katharsis IIJamie Thomas
Ah, Jamie Thomas, a true legend in the world of skateboarding! He's known for pushing the boundaries and doing things on a skateboard that others had never even dreamed of. His iconic style and fearless approach continue to inspire generations of skateboarders.
Perhaps most famously, Jamie was the founder of Zero Skateboards and has been a key figure in shaping the brand's identity and aesthetic. He's also been incredibly influential in the skateboarding industry as a whole, having produced countless influential skate videos and worked with some of the most talented skaters in the world.
But what really sets Jamie apart is his dedication to progressing the sport and his unwavering passion for skateboarding. Whether he's innovating new tricks or pushing his limits on the biggest gaps and stair sets, Jamie has long been a force to be reckoned with in the skateboarding world, and will always be remembered as one of the greats.
Mariusz Lewandowski is a famous skateboard artist who has made a significant contribution to the world of skateboarding. He is well-known for his unique and creative skateboard designs that combine art, fashion, and skateboarding. Mariusz has been passionate about skateboarding since his teenage years and has found a way to combine his love for skating and his artistic talent into a successful career.
His iconic skateboard designs are truly masterpieces. He draws inspiration from nature, the urban environment, and pop culture. His skateboards are not only functional but also visually stunning. Mariusz's designs feature bold colors, intricate patterns, and unique shapes that make his skateboards stand out from the rest.
What's truly remarkable about Mariusz's work is his ability to create a bridge between the world of skateboarding and the world of art. He has elevated skateboarding from a sport to an art form that can be appreciated by everyone. Mariusz's skateboards are not just for skating; they are for admiring, collecting, and showcasing.
Overall, Mariusz Lewandowski is an inspiration to many skateboarders and artists alike. His dedication to his craft and his ability to push the boundaries of what skateboarding can be is what makes him a true visionary.