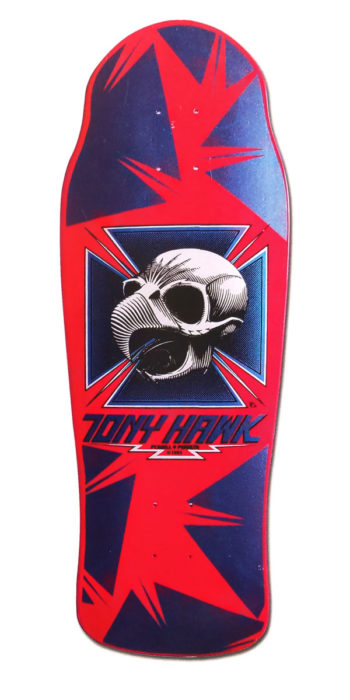 Powell Peralta
Tony Hawk
Artist:
V.Courtlandt Johnson
Tony Hawk is widely recognized as one of the most influential skateboarders in history. He first became a professional skateboarder in 1982 and has since won numerous competitions and awards, including 10 X Games gold medals. Hawk is known for revolutionizing the sport with his innovative and daring tricks, such as the 900, which involves spinning two and a half rotations in mid-air. Additionally, he has also launched his own skateboard brand and video game franchise that have gained immense popularity among skaters and non-skaters alike. Overall, Tony Hawk has had a massive impact on the growth and development of skateboarding over the past few decades.
V. Courtlandt Johnson was a legendary skateboard artist that made a significant impact on the skateboarding world in the 80s and 90s. He is famous for his surreal and psychedelic graphics that adorned skateboards and apparel, giving the skateboard industry a unique identity. Johnson's artwork often featured bizarre creatures, skulls, and skeletons that reflected the rebellious and counterculture spirit of skateboarding. He was an important figure in the evolution of skateboarding as an art form and his influence on the industry can still be felt today. In short, V. Courtlandt Johnson was an iconic skateboard artist who helped shape the aesthetic of modern skateboarding.