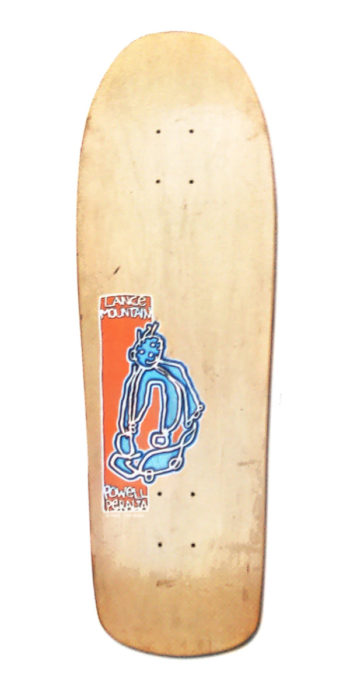 Powell Peralta
Lance Mountain
Artist:
Lance Mountain Jr & Lance Mountain
Lance Mountain is an absolute skateboarding legend! He is a professional skateboarder from the United States who has been at the forefront of skateboarding since the 1980s. Lance is particularly known for his unique style, which combines both technical and creative elements of skateboarding.
What's fascinating about Lance is that he has been a pioneering figure in skateboarding for multiple decades. He's seen the sport grow and change, and he's even been instrumental in shaping it through his own innovative tricks and style.
For example, Lance was one of the first skateboarders to really embrace the concept of "vert" skating, which involves performing tricks on steep ramps and in pools. He helped to popularize this style of skating during the 1980s and early 1990s, and it has remained a staple of skateboarding culture ever since.
Additionally, Lance is known for his passion for experimentation and creativity in his skating. He's never been content to simply replicate what others have done before him, but instead has always pushed the boundaries of what's possible on a skateboard.
So if you want to learn more about this skating icon, I'd recommend researching some of his most famous performances and interviews. There's a lot you can learn from his approach to the sport!
Lance Mountain is a true skateboard legend who has made a huge impact on both skateboarding and the art world. He started his career as a professional skateboarder in the early 80s, and quickly became a recognizable name in the industry for his distinct style and fearless approach to the sport. In addition to his skating skills, Lance was also known for his artistic talent, which he often incorporated into his skateboarding. Over the years, he has become a highly respected artist, creating everything from collages and murals to skateboard graphics and clothing designs. His work is highly sought after by collectors and has been exhibited in galleries around the world. Whether he's skating or creating art, Lance Mountain is a true icon of skate culture and a great example of someone who has successfully blended two seemingly disparate interests into a successful career.