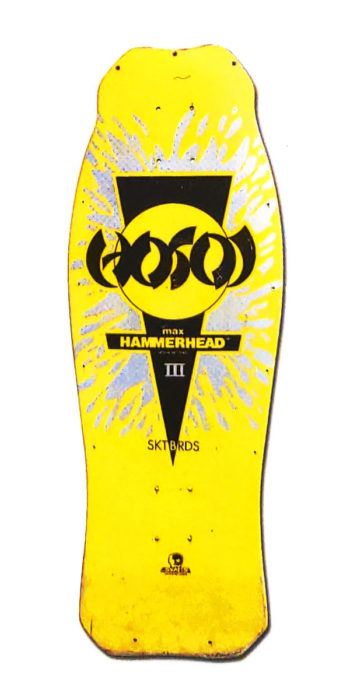 Skull Skates
Christian Hosoi
Artist:
Ivan Hosoi and PD
Christian Hosoi is a legendary figure in skateboarding history. He was born in California in 1967 and quickly became a dominant force in the sport by the early 1980s. Hosoi's signature style was characterized by his smooth, flowing lines, massive air and innovative tricks. He was also known for his distinctive hair and flashy clothing, which helped make him one of the most recognizable skaters of his era.
Hosoi won numerous competitions throughout his career, including multiple X Games gold medals, and was known for pushing the limits of what was possible on a skateboard. Unfortunately, he struggled with drug addiction and eventually served time in prison in the 2000s. Despite these setbacks, Hosoi is still widely regarded as one of the greatest skateboarders of all time, and his legacy continues to inspire skateboarders around the world to this day.
Ivan Hosoi is a talented skateboard artist who is known for his unique and imaginative work. He has been creating skateboard art for several years and is recognized for his bold and colorful designs. Ivan Hosoi is a great example of how skateboarding is not just a sport, but also an art form that can be expressed in many different ways. As a skateboarding professor, it's important to understand that skateboarding is more than just riding a board. It's also about the culture and community that surrounds it, and the creative expression that comes with it.