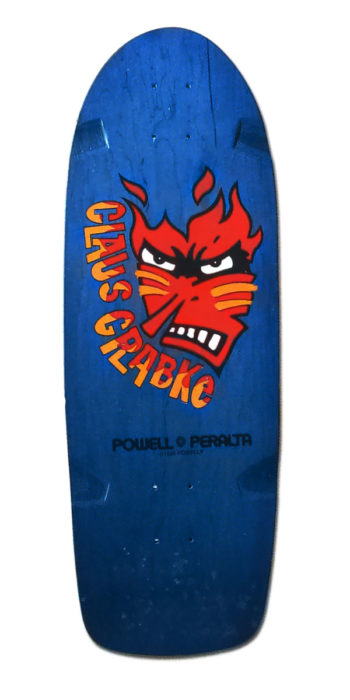 Powell Peralta
Claus Grabke
Claus Grabke is a legendary skateboarder from Germany who made a huge impact on the skateboarding world in the 1980s. He was known for his smooth style and technical tricks, and was one of the pioneers of vert skateboarding. In addition to his skills on a skateboard, Claus was also an accomplished graphic artist, designing many of his own skateboard graphics and clothing. He was a true innovator and his influence can still be felt in skateboarding today.
Claus Grabke is a fascinating artist within the world of skateboarding. He was a professional skateboarder during the 80s and early 90s, but it wasn't until later that he began dedicating himself to creating incredible artwork. His unique style of combining graffiti, graphic design, and photography gives his work a sense of depth and texture that is truly impressive.
In addition to his artwork, Grabke is known for his love of the environment and his work promoting sustainability. He co-founded the skateboard company Titus, which was one of the first brands to use recycled materials in their skateboard decks. His commitment to sustainability is an inspiration to all skateboarders who share a love of the outdoors and want to leave a positive impact on the world.
Grabke's artwork can still be seen today on skateboards, t-shirts, and even on walls in galleries across the world. He is an artist who truly embodies the unique spirit and energy of skateboarding culture, and his work is a testament to the creativity and passion that drives so many of us in this vibrant and exciting subculture.